Getting products from manufacturers to market can be a slow and expensive process in Africa. But a new generation of trucking companies believes internet technology can transform supply chains and bring down prices for shoppers.
Among the "e-logistics" businesses looking to shake up the transportation of goods is Kenya's Lori Systems, which uses a cloud-based platform to connect companies wanting to shift cargo with the truck drivers who can move it.
"We manage a network of tens of thousands of trucks," says Jean-Claude Homawoo, co-founder of Lori Systems, which works across 10 countries in Africa. His customers include Nestlé, Dangote and Honeywell.

"If one [truck] breaks down, that's not an issue because we can send another," he told CNN Business. "Or if the cargo is not ready, we can send that transporter to another site. As long as we keep trucks moving and they're not running empty miles, which is costly, we believe that the prices will continue to come down."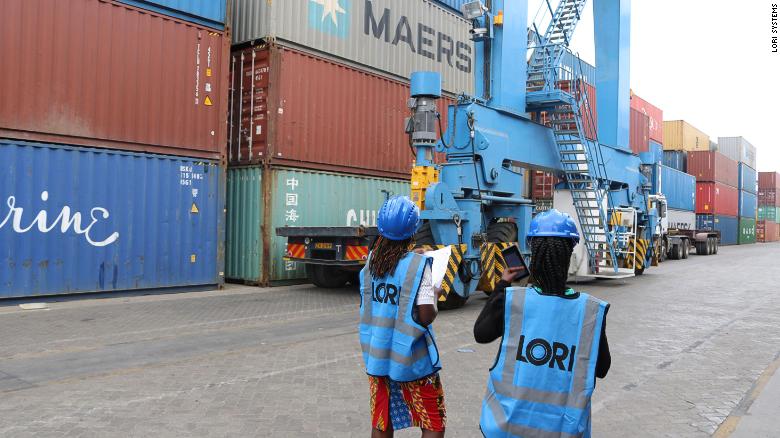 The ultimate goal is to make Africa more competitive on global markets, he says.
Poor infrastructure and logistics can add between 40% and 60% to the cost of goods in Africa, according to a report this month by the International Finance Corporation (IFC) and Google.
"Even within local markets, inefficient distribution networks can lead locally grown fresh produce to cost substantially more in Africa than in developed markets, even though the cost of labor is substantially less," says William Sonneborn, senior director of the IFC, part of the World Bank group.
With better logistics, Africa could be a bigger exporter of fresh fruit, says Sonneborn. A cumbersome supply chain means fruit grown on the continent often spoils before reaching its destination, or it can't compete on price.
"As you fix the whole system, which includes e-logistics and some investments in ports and other key infrastructure assets, you are creating the opportunity for exports," he says.
Impact on the digital economy
Homawoo says Lori Systems has raised "north of US$25M" in funding. Sendy, another Kenyan e-logistics company, raised US$20M in an investment round backed by Toyota (TM) in January, and last year, Nigeria's Kobo360 raised US$20M from Goldman Sachs and other investors.
But Sonneborn says that for e-logistics to really make an impact, more financial backing is needed, as well as more digital skills on the continent.
The IFC report cites e-logistics startups as key in growing Africa's internet economy, which could be worth US$180B by 2025, accounting for more than 5% of the continent's gross domestic product.
Homawoo believes that the sector could help transform African economies. "If we can make logistics more efficient, the opportunities are endless," he says.
Source: CNN Business