They say elephants never forget. And, for decades, scientists have shown us that elephants are also highly intelligent. They are "among the most socially complex non-human species on our planet," according to Dr. Joyce Poole, Scientific Director of the non-profit group, ElephantVoices.
The social complexity of elephants is expressed in a wide range of behaviours and communications that Dr. Poole has helped identify, based on 45 years of work in Gorongosa National Park in Mozambique, as well as Amboseli National Park and Maasai Mara ecosystem in Kenya. Now, thanks to Dr. Poole and her husband Petter Granli, CEO of ElephantVoices, the world finally has a comprehensive tool for understanding the language of elephants.
Dr. Poole has compiled all her research into a landmark project: The Elephant Ethogram: A Library of African Elephant Behaviour, a unique, user-friendly online database on the behaviour and communication of the endangered African savanna elephant (Loxodonta africana). The fully searchable database categorizes and describes over 500 behaviours, and documents them with over 3,000 annotated video clips, audio field recordings and photographs.
Dr. Poole describes the project as a "multimedia catalogue, or library, that aims to describe the characteristics and, where possible, the functions of the behaviours that have been recorded for African savanna elephants. We intend The Elephant Ethogram to be a repository for scientific study and comparison, and to inspire broader interest in elephant behaviour, conservation and welfare."
The Elephant Ethogram documents the "rich postural, gestural, tactile, chemical and acoustic communication and behaviour of savanna elephants, including rare, novel and idiosyncratic behaviour, as well as that expressed in response to people," explains Dr. Poole. The Elephant Ethogram is based on decades of behavioural studies and photographic, acoustic and videographic collections and defines 404 Behaviours, 109 Behavioural Constellations and 23 Contexts.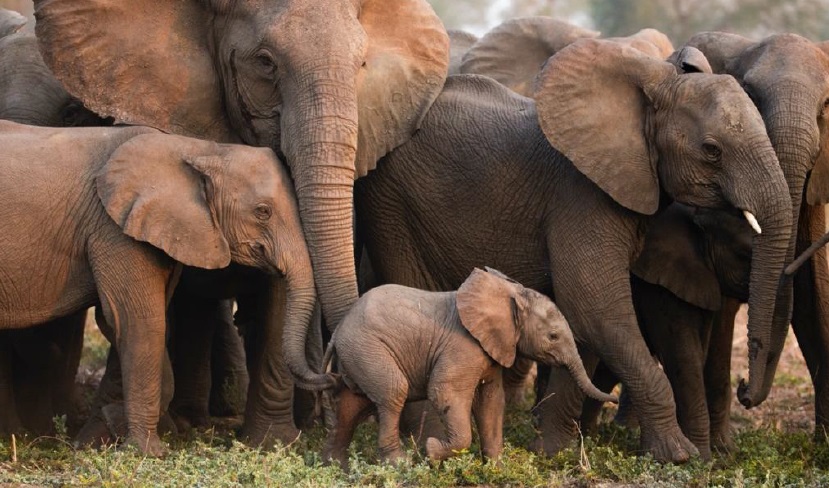 As interest in the intelligence and emotions of non-human animals grows in the scientific community and general public, The Elephant Ethogram reminds us about the extraordinary complexity and beauty of elephants, the world's largest terrestrial animal species. Dr. Poole says, "We intend The Elephant Ethogram to be a repository for scientific study and comparison, and to inspire broader interest in elephant behaviour, conservation and welfare."
Dr. Poole states that in the 45 years since her studies began, enormous changes have impacted the lives of elephants. "It is urgent to document the natural behaviour and gestural and acoustic communication of this complex, intelligent and charismatic species. Elephants are at the brink of potentially catastrophic changes, with their way of life, and very existence, endangered by our own species. We hope The Elephant Ethogram will remind people what will be lost if we don't change course."
Link to The Elephant Ethogram: A Library of African Elephant Behaviour:
https://www.elephantvoices.org/elephant-ethogram.html
Link to National Geographic article:
https://www.nationalgeographic.com/animals/article/new-elephant-library-reveals-communication-mysteries
A few video examples of the range of behaviours described in The Elephant Ethogram:
Bite-Trunk. Context: Social Play (1) – https://vimeo.com/351992001/8e5421068b
Casual-Stance. Context: Attentive (1) – https://vimeo.com/352869322/ea81b8e890
Contact-Rumble. Context: Movement Space & Leadership (1) – https://vimeo.com/369269946/65e177b95f
Ear-Wave. Context: Advertisement & Attraction (12) – https://vimeo.com/468878265/24490f32e2 Estrous-Roar
Context: Advertisement & Attraction (2) – https://vimeo.com/417185870
Foot-Nudge. Context: Calf Reassurance & Protection (1)
– https://vimeo.com/477993894/f30f068d6b
Greeting-Rumble. Context: Affiliative (6)
Head-Waggling. Context: Social-Play (5)
Kick-Back. Context: Movement Space & Leadership (4) – https://vimeo.com/358770704/47c5e429cc
Musth-Temporal-Gland-Secretion. Context: Advertisement & Attraction (4) – https://vimeo.com/473745275/d0e3e5cceb https://vimeo.com/473745275/d0e3e5cceb
Roll-Tree. Context: Foraging & Comfort Technique (2) – https://vimeo.com/369505708/c062fee4ae
Tail-Swatting. Context: Submissive (3) https://vimeo.com/480731564/3e47f0cdab
Trumpet-Blast. Context: Attacking & Mobbing (4) – https://vimeo.com/360485927
Trunk-Twisting. Context: Ambivalent (3) https://vimeo.com/360540174/e4cf2712f1