Family safaris are openly the best! As a previous guide, I had the privilege to drive so many families, and I still get goosebumps with the memories of being part of those precious and often private moments.
Many travel brochures will speak to family safaris as a "wonderful opportunity" to watch "young eyes open to a new world". In my experience, the opposite is true, it's the young and inquisitive minds that will open your eyes to the details of these unique landscapes and experiences. And also – it is children who are often better behaved…
My strongest advice is to come when you are comfortable! There are some valid concerns when you consider traveling with your family – especially if you have young ones with you. Speak to us, we can help with the finer details and alleviate any concerns or anxiety you might have. As for the children, they are ready!
To get your safari planning started, enjoy our short list of some of our favourite family-friendly lodges for 2022.
andBeyond Phinda Mountain Lodge
Phinda Private Game Reserve, South Africa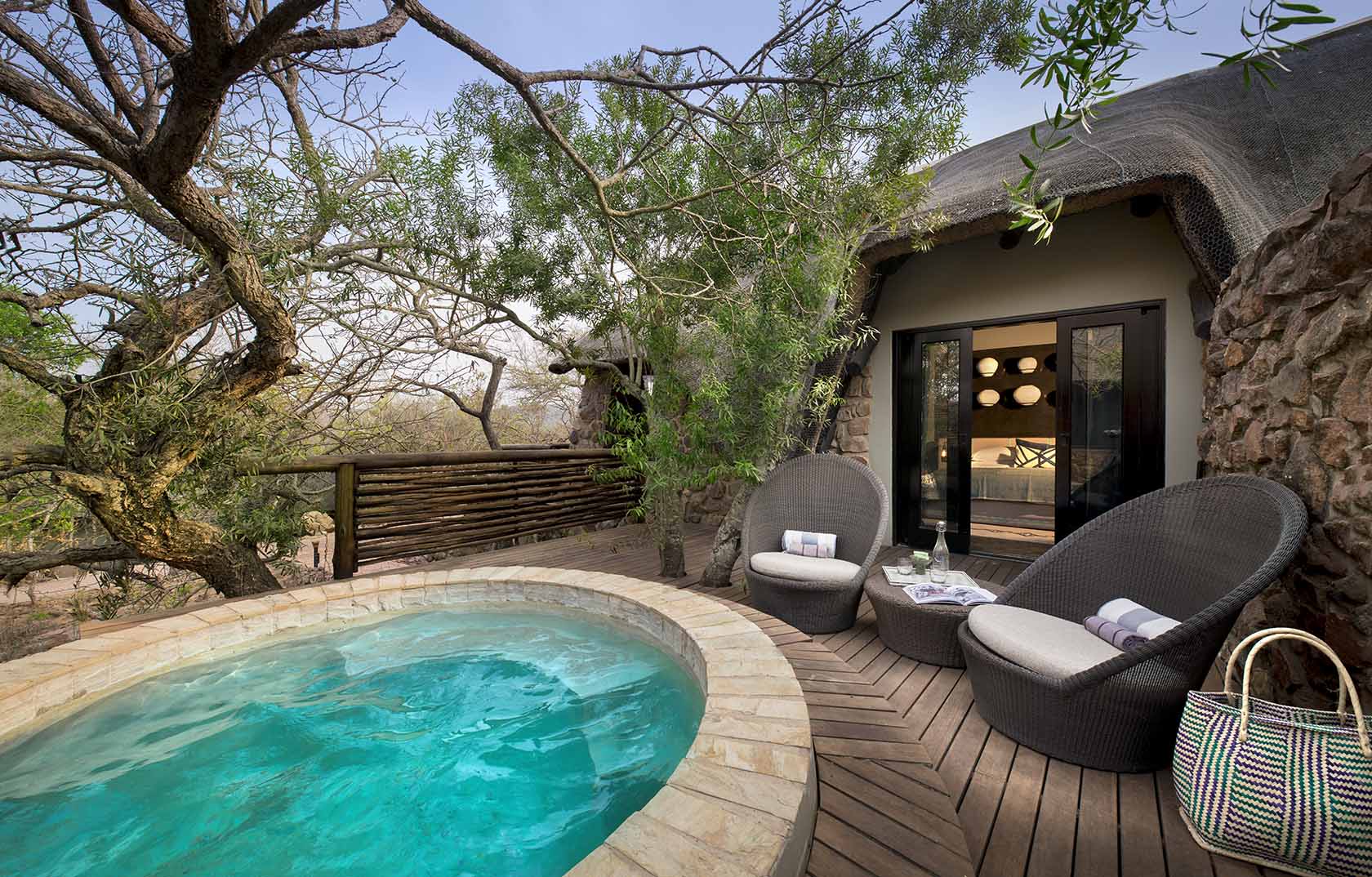 Phinda Mountain lodge is one of the most ultimate family safari destinations in South Africa. With a variety of accommodation types, from an exclusive family suite to three purposely built family cottages, this Big Five game reserve will definitely go "beyond the expected". Due to its close proximity to the warm Indian Ocean, you can also enjoy a variety of Ocean adventures. And for a multi-generational family, a Conservation Experience like rhino notching can also be possible.
Malaria Risk: Situated in a low malaria-risk area*
Trip Types: Under 5 Years Old; 5 to 10 Years; 10 years and older
Why do we love it!
Dedicated age appropriate WILDchild Program from 3 to 12
One Family suite and 3 family cottages
Children's lounge and childminder available
Beach and safari adventures
Big Five Game Viewing
Suggested Itinerary – South Africa and Botswana
Singita Serengeti House
Grumeti Game Reserve, Tanzania
The exclusivity and space alone will give you the luxury and freedom to know, your children can be noisy and still enjoy the serenity of Singita Serengeti House, Tanzania. And to perhaps pull back a little routine and home-like order, there is an eat-in family kitchen to provide a few home favourites (don't worry you won't need to do the cooking). Singita's Mini Ranger Course is also perfect and an absolute favourite to keep those inquisitive minds engaged and off the dreaded hand-held screens that we are all looking to escape!
Malaria Risk: Situated in a malaria-risk area*
Trip Types: Under 5 Years Old; 5 to 10 Years; 10 years and older
Why do we love it!
Mini Game Rangers course
Great Migration *Seasonal
Exclusive with only 8 guests
Childminder available
Big Five Game Viewing
Lion Sands Ivory Lodge
Sabi Sand Game Reserve, South Africa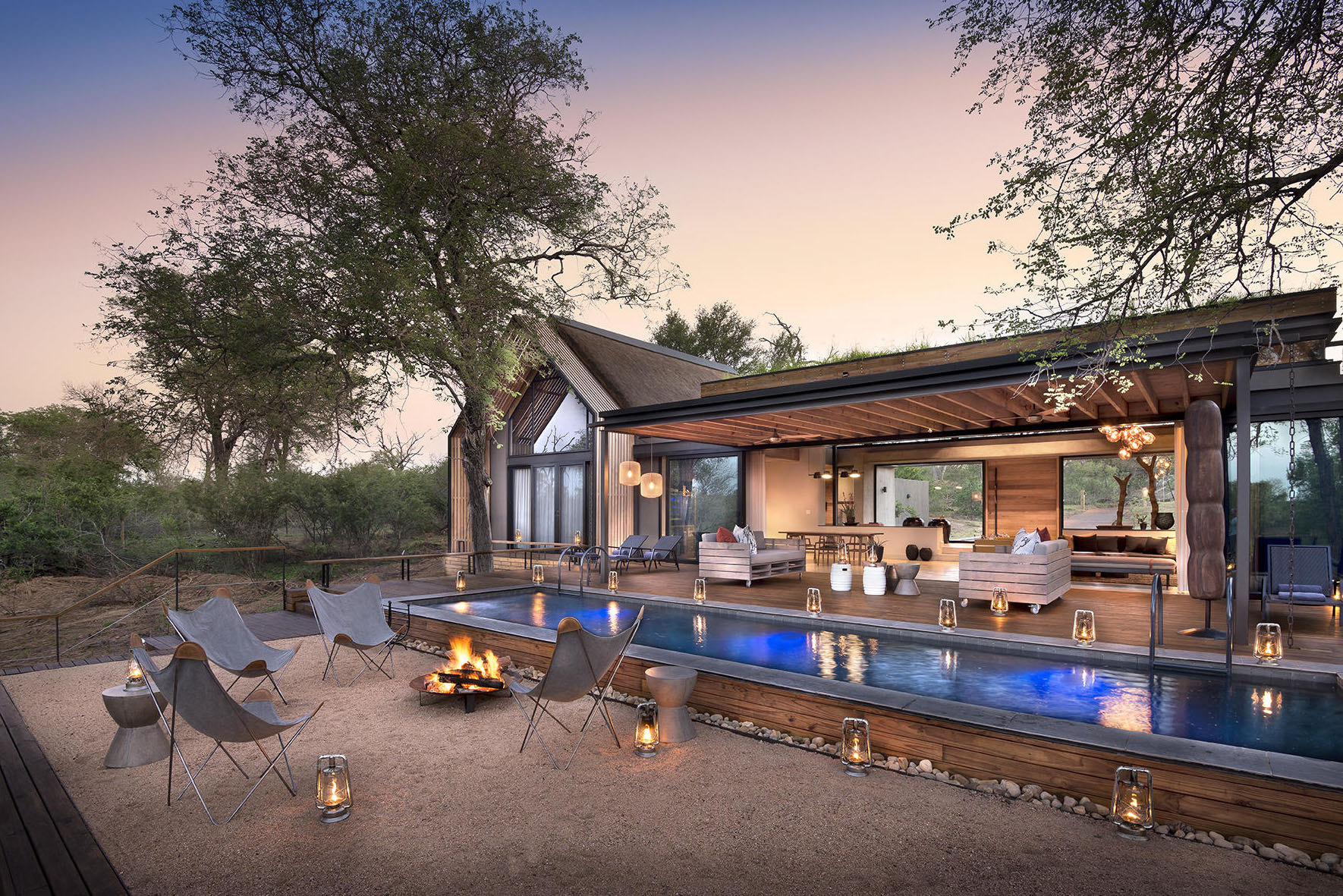 Start your safari experience from the airport! With just a 25 minute game drive from Skukuza Airport, Lion Sands Ivory Lodge is conveniently placed for families concerned with travel time and stop-overs. Although there are a variety of family friendly accommodations at Ivory Lodge, it's the Fish Eagle Villa that we want to bring to your attention. Completely private with its own lounge, plunge pool, spa and gym, here you can enjoy a family safari experience completely at your own family's pace and convenience.
Malaria Risk: Situated in a low malaria-risk area*
Trip Types: 5 to 10 Years; 10 years and older. *At Fish Eagle Villa – all ages welcome
Why do we love it!
Convenient access from Skukuza Airport
Observant Kosher Dining
Dedicated Mack & Madi Kids' Club
Childminder available
Big Five Game Viewing
Suggested Itinerary – The Best of South Africa
andBeyond Kichwa Tembo Tented Camp
Masai Mara, Kenya
Where a classic safari experience meets the legendary hospitality of Kenya! Kichwa Tembo Tented is on the base of the Oloololo Escarpment, providing extraordinary panoramic views of the iconic Masai Mara. This is a larger lodge than the others on this list, however, with relaxed resident warthogs feeding on the lawns, it is no less private nor exclusive. Infact, with three family suites, you could find your wildlings making some travel friends!
Its size can also lend itself to multi-generational families, whereby you can enjoy your own private space, yet be together in a magical and awe-inspiring safari setting.
Malaria Risk: Situated in a low malaria-risk area*
Trip Types: 8 years and older; 10 years and older
Why do we love it!
Great Migration Crossing *Seasonal (July to October)
Age appropriate WILD child Program 8 to 12
Private vehicle can be booked – providing family flexibility
Authentic Maasai village trips
Big Five Game Viewing
Suggested Itinerary – Ultimate Kenya Safari
Singita Lebombo
Kruger National Park, South Africa
A family safari list would not be complete without a lodge inside South Africa's iconic Kruger National Park! Situated in its own private concession within the Kruger National Park, this spectacular lodge is perched above the N' wanetsi River. Enjoy two daily interpretive game drives with your private guide. And with limited vehicles at sightings, immerse the family in an exclusive and private experience like no other. The Lebombo Villa is also available with its private swimming pool, lounge, dining room and deck.
Malaria Risk: Situated in a low malaria-risk area*
Trip Types: 10 years and older. *At Lebombo Villa – under 10 years welcome
Why do we love it!
Sinigita's Mini Game Rangers course
Guided Safari Walks ( Minimum age 15)
Private Concession
Childminder available
Big Five Game Viewing
Thorntree River Lodge
Mosi-Oa-Tunya National Park, Zambia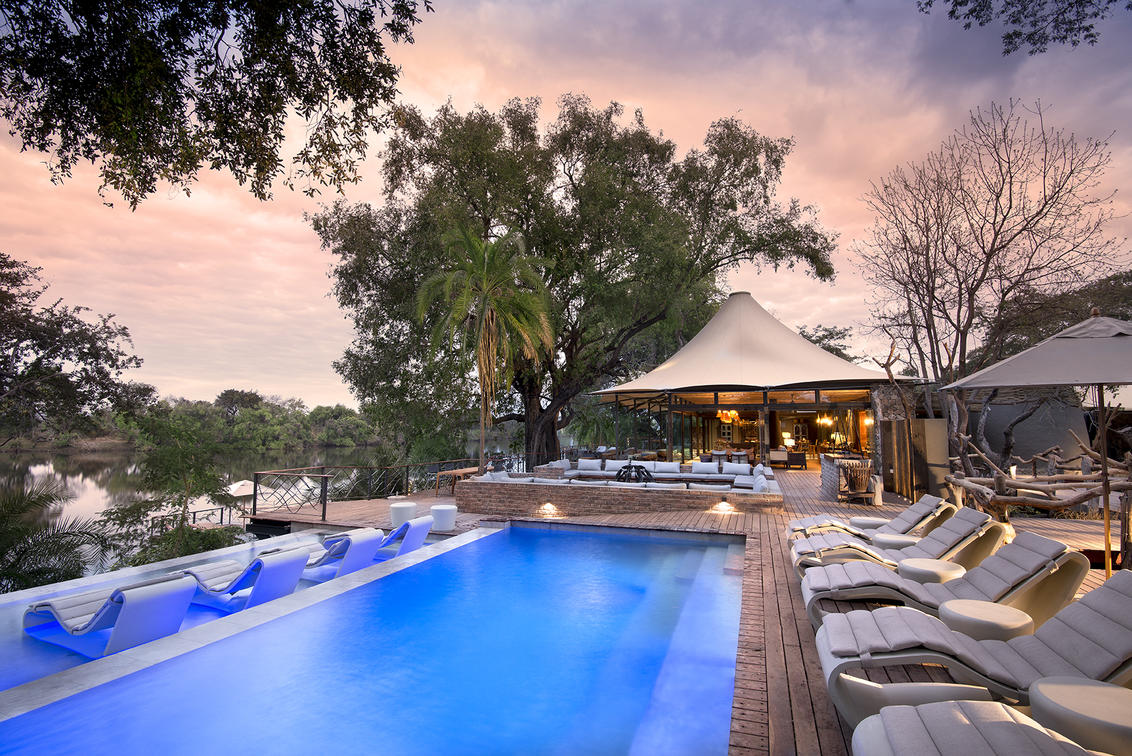 Thorntree River Lodge is a tranquil riverside lodge, conveniently positioned just 20 min upstream from the famous Victoria Falls. The lodge provides an array of adventure activities for the family to enjoy from traditional safari game drives, fishing, sunset river cruises, canoeing and even bungee-jumping for the adrenaline seekers in the family! It has two family suites with interleading doors, each with their own luxurious plunge pool.
Malaria Risk: Situated in a moderate malaria-risk area*
Trip Types: Under 5 Years Old; 5 to 10 Years; 10 years and older
Why do we love it!
Sunset River cruises
Included water activities on the Zambezi
Close proximity to Victoria Falls
Childminder available
Rhino tracking
Suggested Itinerary – Wildlife and Waterfalls
Grootbos Garden Lodge
Grootbos Private Nature Reserve, South Africa
Just a 2 hour drive outside of Cape Town, the Grootbos Private Nature Reserve offers a lodge experience like no other on this list! Leaving the science behind, the area boasts one of the most biologically diverse marine ecosystems in the world! And the Cape floral kingdom surrounding Cape Town, has three-times the floral diversity than the Amazon Jungle!
This family run lodge is perfectly positioned within these uniquely diverse ecosystems. Explore this magnificent area with a variety of adventure activities from horseback riding, river cruises, mountain biking, hiking, botanical tours to marine and coastal safaris or even shark-cage diving (age appropriate).
Malaria Risk: Situated in a Malaria-free area
Trip Types: Under 5 Years Old; 5 to 10 Years; 10 years and older
Why do we love it!
Horseback riding
Marine and Coastal Safaris
Land-based whale watching (July to December)
Shark cage diving
Botanical tours (this is incredible!)
Mnemba Island
Zanzibar, Tanzania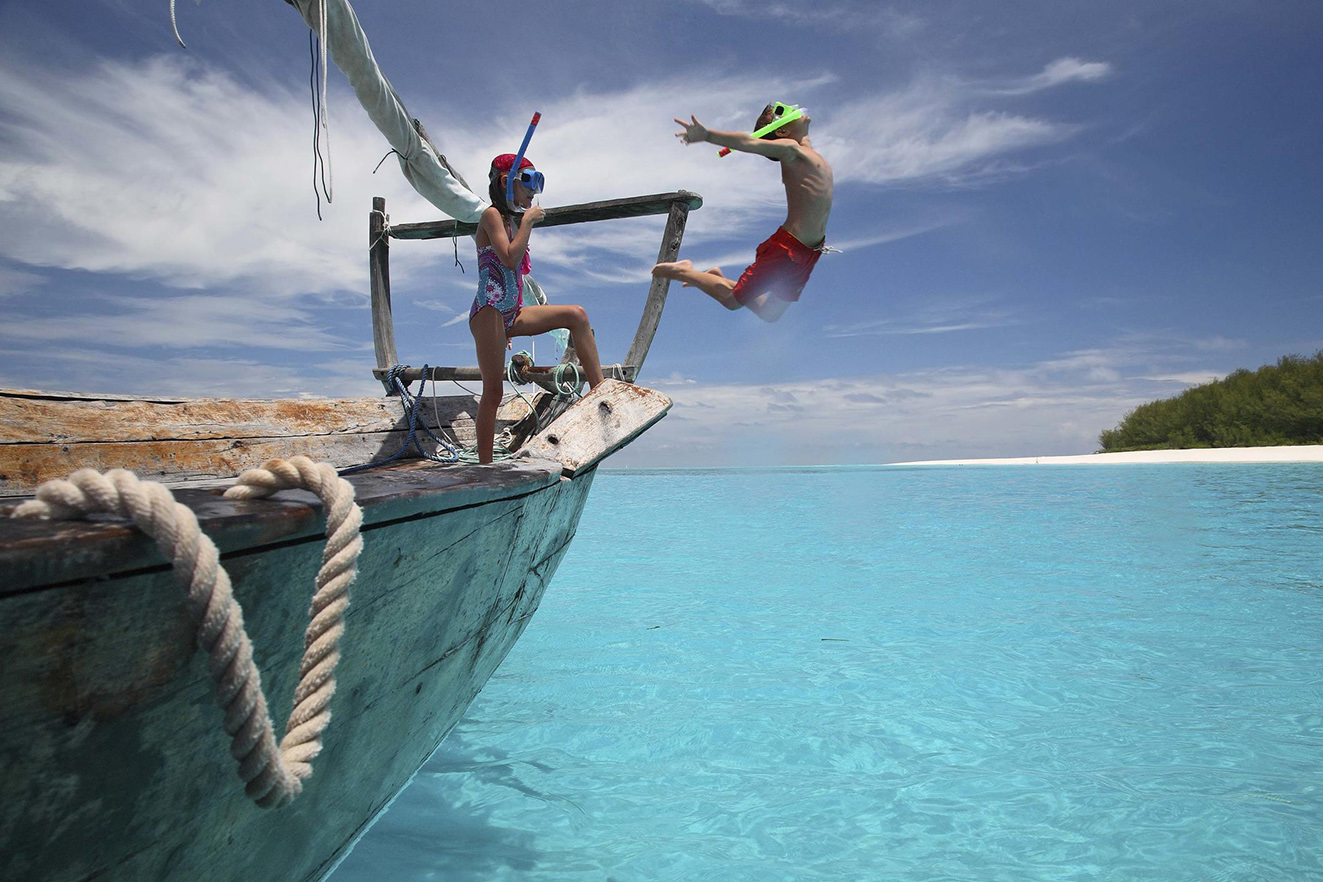 An exclusive "barefoot island paradise" off the coast of Zanzibar, Mnemba Island is the perfect place to relax after a family safari in Kenya or Tanzania! Although the island is known for its romantic candlelit dinners and tranquil dhow cruises, the island also has an exclusive family banda which is perfect for a family of four.
Due to the island's small size and access to a private butler, you can choose exactly how you would like to spend your day. And there are plenty of island adventures for families of all ages. Learn to dive as a family at Mnemba's PADI dive center; swim with the resident pods of dolphins; snorkel in the warm shallow waters or even witness turtles hatching and scurrying towards the ocean!
Malaria Risk: Situated in a low-risk malaria area
Trip Types: 10 years and older
Why do we love it!
Seasonal turtle nesting and hatching
Marine based WILDchild Program
PADI dive center
Water sport activities
Beach picnics
View our Suggested Itinerary – Tanzania and Zanzibar
Jao Camp
Okavango Delta, Botswana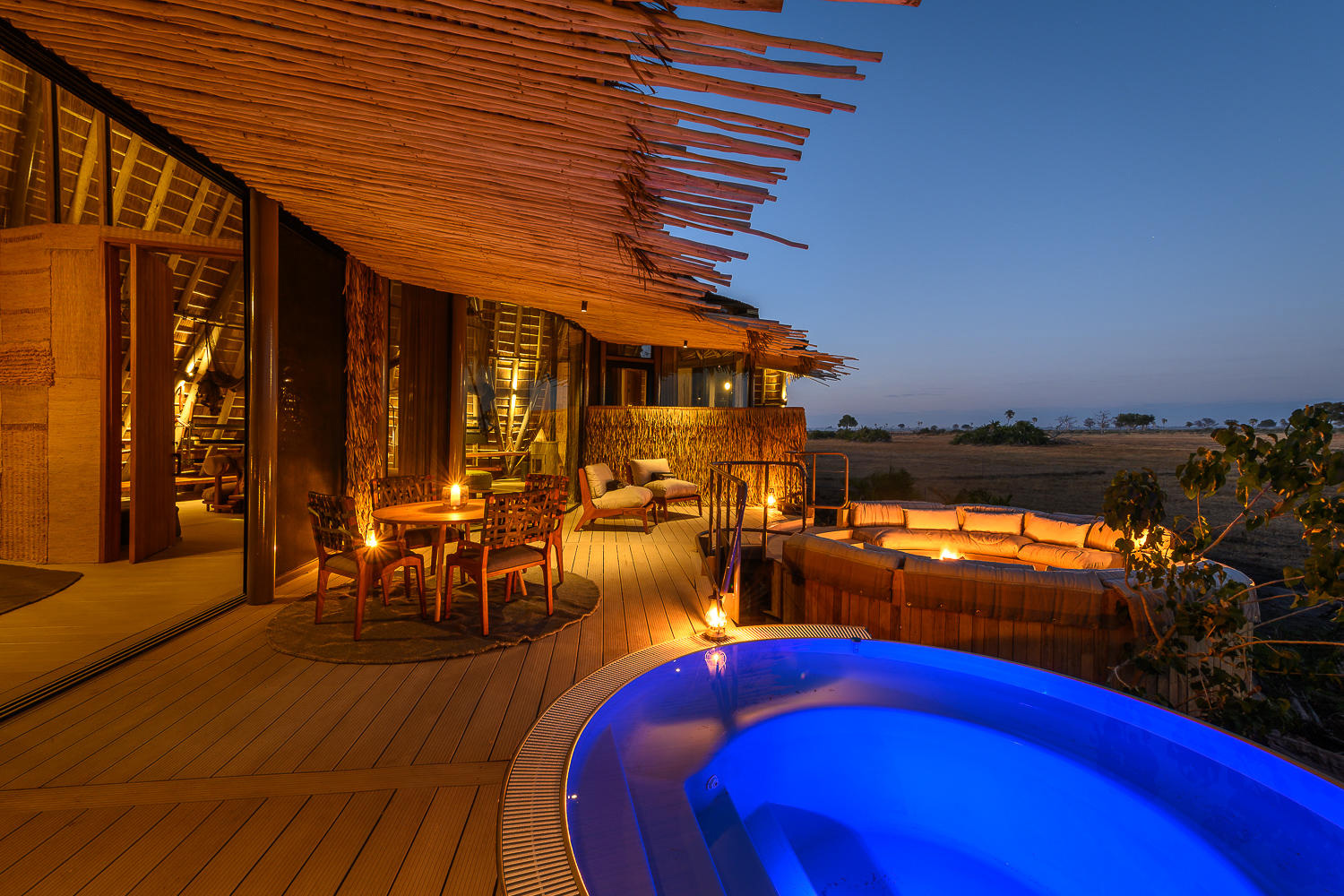 In the heart of the Okavango Delta, luxurious Jao is set amongst islands fringed with riverine forests and vast floodplains with prolific wildlife. Apart from daily game drives with your guide, explore the magnificent 150 000 acre private concession with a variety of other activities. Discover the tranquil Delta channels on a mokoro (traditional dugout canoe), or cruise along the larger waterways on a motor boat looking for elephants, red lechwe herds and large nile crocodiles. The camp has two exclusive villas that are perfect for families of any age over 6 years. Each with their own private plunge pool, lounge and dining area.
Malaria Risk: Situated in a moderate malaria-risk area*
Trip Types: 6 to 10 Years; 10 years and older
Why do we love it!
Mokoro adventures
Day outings and picnics
Wilderness Bushbuddy Program (6-10 years)
Motor boating excursions
Big Five Game Viewing
View our Suggested Itinerary – Southern Africa Explorer
One&Only Gorillas Nest
Volcanoes National Park | Rwanda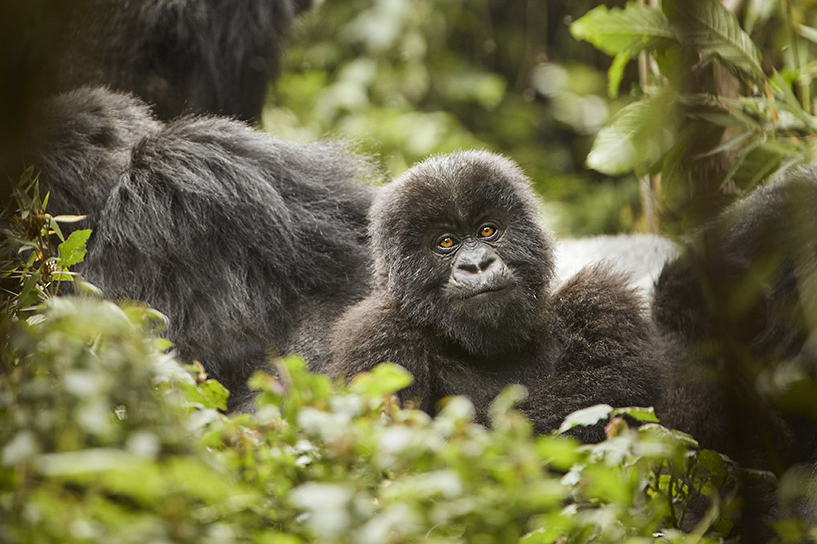 Take your family to the heart of Rwanda, and explore the land of gorillas and 1000 hills. Nestled below the majestic Volcanoes National Park, the One&Only Gorillas Nest is perfectly positioned to take your family on a crafted adventure to witness the majestic and endangered mountain gorilla. Due to the age restriction on gorilla trekking permits, we recommend that all family members are 15 years or older. Stay at the beautiful two-bedroom Forest Lodge, the perfect family nest with two separate rooms connected by spacious viewing decks.
Beyond the gorilla trekking adventure, there is also a variety of adventurous activities like, social encounters with golden monkeys; a hike to Diane Fossey's grave site; ancient caves or hike up Mount Bisoke. Given the history of Rwanda, a trip to the Iby' Iwacu cultural village is also highly recommended.
Malaria Risk: Situated in a low malaria-risk area*
Trip Types: 15 years and older
Why do we love it!
Gorilla Trekking
Golden Monkey Encounter
Mount Bisoke Hike (Moderate)
Authentic cultural experiences
Farm-to-table dining
View our Suggested Itinerary in Rwanda
Tswalu
Kalahari, South Africa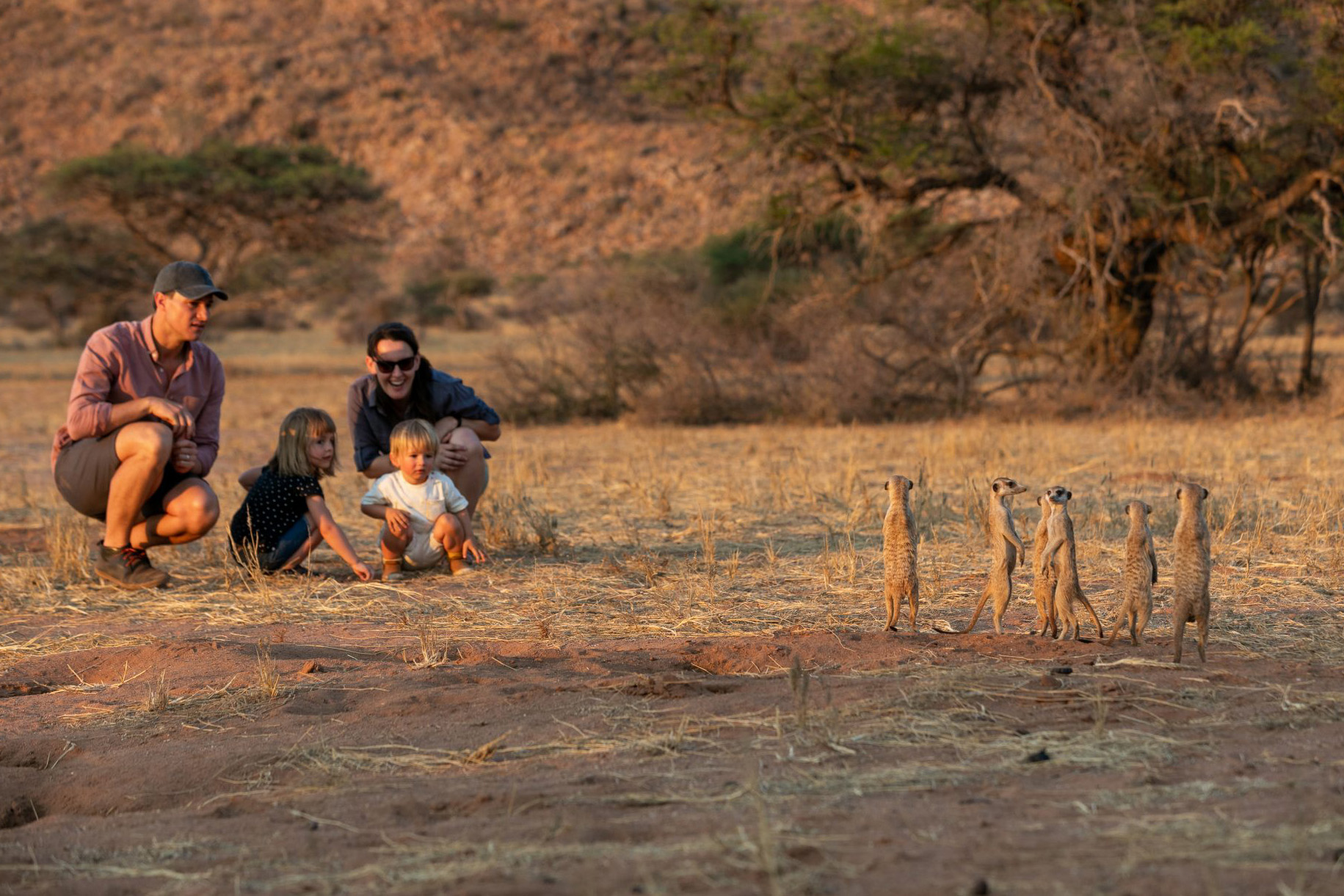 Set within a breath-taking 271 185 acre arid landscape, Tswalu is South Africa's largest privately owned game reserve. With guaranteed access to a private vehicle, guide and tracker, your family will have the freedom to enjoy and explore this exquisite landscape in your own time. Discover and observe unique wildlife like the Kalahari adapted cheetah, black rhino, aardwolf, pangolins and impressive black maned lions! Beyond the traditional game drive, other complimentary activities include, horseback riding, visiting a family of meerkats, walking safaris and a tailor-made Junior Ranger program!
Tswalu offers two types of family accommodation. The Motse camp has three two-bedroom legae (Tswana word for home). While the Turkani Homestead is perfect for a multi-generational family, with five suites able to accommodate 10 guests, a private plunge pool and boma to fit all occasions!
Malaria Risk: Situated in a malaria-free area*
Trip Types: Under 5 Years Old; 5 to 10 Years; 10 years and older
Why do we love it!
Junior Ranger Program
Black maned Kalahari Lions
Horseback riding
Habituated meerkat experience
Pangolin and aardvark viewing
---

Are you ready for the trip of a lifetime?
If you're thinking of planning a trip, we're here to help! Our team of travel designers will create an itinerary just for you to create memories to last a lifetime and conquer your bucket list. Get in touch with us today to start planning your adventure in Africa.
*Please understand that although the malaria risk statuses were taken from the respective sites. Please consult your local doctor on what they believe will be best for your family at the time of travel.*
Written by: Sean Messham