The South African Breweries (SAB) has officially launched its first fully-fledged Environmental, Social and Governance (ESG) strategy as it strives to lead the beer category toward a more sustainable future.
At an event held at its Headquarters in Johannesburg, SAB launched its ESG strategy to stakeholders, in which VP of Corporate Affairs at SAB, Zoleka Lisa said, "We have been thinking long and hard about what it means to be a sustainable company. We need to create growth and value for all our stakeholders and know that it starts by creating more resilience in our business."
At the launch, Lisa said the impetus behind the ESG Strategy came from a deep review of the business's role and impact in the value chain across South Africa and the communities in which it operates.
"Beer is reliant on a thriving agricultural sector and healthy natural environment. Our operations and products are therefore intricately linked to nature. The basic ingredients of beer are natural, so it is our responsibility to make sure that sustainability is at the heart of our strategy," says Lisa.
To cover its bases and to maximise impact, SAB split its ESG strategy into three focus areas:
Ensuring Climate Resilience
SAB will contribute towards building a resilient clime and reduce local harmful emissions in its operations and across its value chain. Included in this is the investment to drive local innovation on reduction mechanisms and alternative energy resources.
"In a country now struggling with load shedding, we want to ensure that most of our contracted electricity will come from renewable resources. This is how we hope to make a positive impact by being part of a solution to the energy crisis," says Lisa.
SAB's renewable electricity power purchase agreements have already helped the brewery reduce its value chain carbon footprint through on-site solar energy installations at all seven breweries including biogas facilities at its Alrode facility.
"We are continually looking for ways to be more efficient and reduce our footprint via green logistics, energy efficiency, and working with suppliers to reduce their carbon emissions.
Ensuring effective partnerships for Water Stewardship
As a key ingredient in beer, and a critical resource for the health and wellbeing of every community, the country's biggest brewer should aim to make a positive contribution to watershed health across its operations and value chain. The SAB has committed to actively monitor and track water usage in its operations.
"This includes our water source, consumption, discharge and quality, which is monitored for better preservation," says Lisa.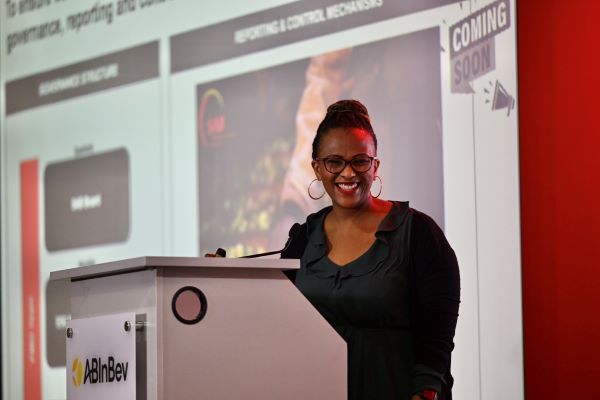 SAB has been in a decades-long partnership with the World Wildlife Fund for Nature (WWF) with the aim of addressing water concerns in areas of operations. In Waboomskraal and Herold just outside of George, SAB's partnership with WWF helped eradicate invasive plant species and ensure water security for the local communities and the farmers who these communities depend on. To date 1275h of alien vegetation have been cleared, and 9 billion litres saved.
"Today, these efforts have saved an estimated nine billion litres of water per year. This goes a long way for our communities and the farmers who depend on that land," says Lisa.
Furthermore, SAB has partnered with the Strategic Water Partners Network to contribute to efficient, equitable and sustainable water supply and access to water for all South Africa.
Ensuring that we have inclusive economic recovery through Entrepreneurship
SAB wants to foster economically sustainable opportunities that are inclusive and enable its entrepreneurs to gain access to opportunities.
"We want to support entrepreneurs on their journey and show our commitment to providing a tangible and sustainable future for all South Africans," says Lisa.
SAB aims to support over 50 000 businesses across its value chain and ensure they thrive in challenging environments.
Formed in 2010 as a B-BBEE transaction, the SAB Foundation was set up as an independent trust able to invest millions of Rands to drive entrepreneurship and employment in south Africa.
Since then, the SAB Foundation has deployed over R534 million in grand funding, business development support and interest-free loans to 5 229 entities between 2015 and 2022.
"Best of all, 90% of the beneficiaries come from rural areas and 70% are woman with 50% of the beneficiaries being youth. That is the kind of change we are proud to drive in this country that we love so dearly," says Lisa.
SAB is a proudly committed to creating hope for the future and accelerating inclusive growth across our value chain and this strategy will have a long-lasting and highly positive impact.