A $360 million programme has been launched in a bid to lessen blow of drought on the Horn of Africa livestock farmers who are staring at heavy losses of their livelihood as a result of the ongoing dire weather condition in the region.
The programme dubbed Drive (De-risking, Inclusion and Value Enhancement of Pastoral Economies) is supported by the World Bank and will cover underwriters for livestock farmers in Kenya, Djibouti, Ethiopia, Somalia and Eritrea to de-risk the farmers.
In this, Zep-Re, the insurance arm of the Common Market for Eastern and Southern Africa (COMESA) has been appointed to cover the underwriters for livestock farmers in the project.
"This programme is going to offer much towards mitigating the effects of drought among the participating countries, especially now when the drought situation is getting worse," said Rachel Murera, the Chief Executive at Zep-Re.
Farmers are going to be required to only cater for 20 per cent as a premium while the remaining 80 percent will be covered by their respective governments under the funds that come in form of grant and loan, he added.
Djibouti, Ethiopia, Somalia and Eritrea are coming in for the first time following the success of the similar Livestock Insurance Programme in Kenya that was introduced in 2015.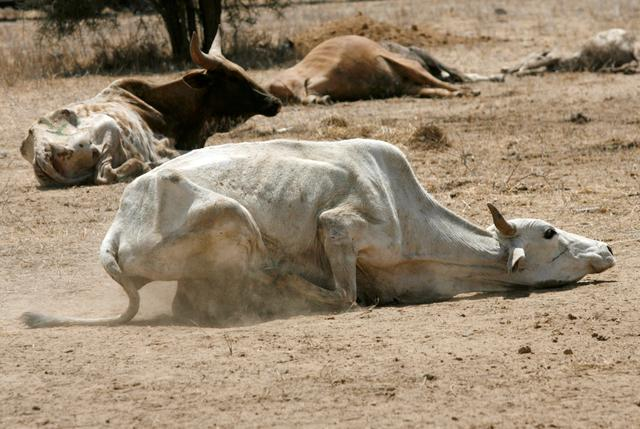 Effects of drought on the livestock farmers
Already drought in the region has seen 11 million animals dead and the Intergovernmental Authority on Development (IGAD) last week warned that the region should prepare for more failed rains in the coming season.
Kenya alone has so far lost at least 2.6 million livestock in the past five months to the ongoing drought and IGAD is now saying that it might get serious since below-normal rainfall is expected in most parts of the greater Horn of Africa over the next three months.
It follows therefore that the programme is aimed at protecting the pastoral communities and their economies against drought risk and increase their financial inclusion and connection to markets.
Food security
It is now feared that the situation, if not handled, is a great threat to food security given close to 23 million people are already food insecure in Ethiopia, Kenya and Somalia.
According to Mithika Linturi, Kenya's Agriculture Cabinet Secretary, severe droughts averagely affects 3-4 million people in each cycle in the country with the most affected regions being arid and semi-arid lands.
"High exposure to severe drought shocks, and their devastating impact on livestock production systems informed the ministry to adopt livestock insurance for rangelands. Severe drought shocks not only disrupt the livestock production but also hurt livestock markets," said Linturi.
Managing drought shocks, encouraging herders to offload animals that are ready for market, and supporting private sector investments in livestock value chain will unlock the potential of the pastoral production system, he added.